You Don't Know Me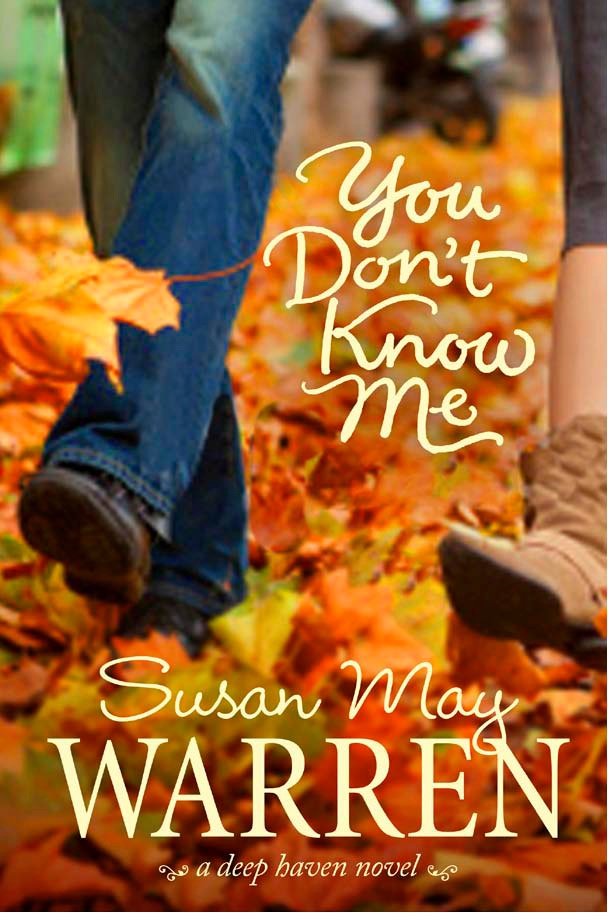 You Don't Know Me
Contemporary Romance
A Deep Haven Novel, Book Six
ISBN-10: 1414334842
ISBN-13: 978-1414334844
Tyndale House Publishers
Sometimes the secrets we keep to protect ourselves can be our undoing.
To all who know her, Annalise Decker is a model wife and mother. She's a permanent member of the PTA, never misses a sporting event, and is constantly campaigning for her husband's mayoral race.
No one knows that Annalise was once Deidre O'Reilly, a troubled young woman whose testimony put a dangerous criminal behind bars. Relocated through the Witness Security Program to the quaint harbor town of Deep Haven, Deidre received a new identity and a fresh start, which began when she fell in love with local real estate agent Nathan Decker.
Twenty years later, Annalise couldn't be more unprepared for her past to catch up with her. When Agent Frank Harrison arrives with news that the man she testified against is out on parole and out for revenge, Annalise is forced to face the consequences of her secrets. Will she run again, or will she finally find the courage to trust those she loves most with both her past and her future?
Praise for You Don't Know Me:
"Warren returns readers to Deep Haven with a wonderful story, filled with family and faith. Althought Annalise has a situation that readers won't directly identify with, the dilemmas she faces regarding her family will touch hearts and lives in an authentic way." Romantic Times
Praise for Deep Haven novels:
"A truly delightful tale straight from the heart." Romantic Times
"Delightful. . . . Reminiscent of Steel Magnolias and the Mitford novels, but with a personality and charm all its own." Crosswalk.com
Behind the Pages:
This novel began on a flight to Portland. I sat next to a woman fidgeting in her seat, clearly distraught at some turmoil in her heart. After a few nudges from the Lord, I leaned over to ask her how she was, and why she was going to Portland.
"To say goodbye to my daughter, who is going into the witness security program." She looked at me wearing a haunted expression. "She witnessed a murder and now the family of the convicted killer is threatening her. She isn't safe."
I stared at her. "For how long will she be hiding?"
"Forever," she said.
I swallowed. After a moment, "How old is your daughter?"
"Twenty-one."
"Why don't you go with her?" I asked, not quite able to comprehend the magnitude of her loss. Not knowing if your daughter was alive, not seeing her get married, not knowing your grandchildren…so many unbearable sacrifices.
"I can't. I have a husband who is handicapped and two small children. They can't move."
I didn't pry any further, but my heart wrenched as I prayed for her and right then You Don't Know Me birthed. At first I thought it might be the mother's story. But as I worked on it, I realized it was the daughter's story, also. A story of secrets, and living another life. A story of second chances, but also of regret. A story of grace, and walking in it every day, hoping for a happy ending.
As I wrote it, I discovered that You Don't Know Me was also a story of how secrets can burrow in and destroy our lives even when we believe we are protecting the ones we love. Big secrets and small ones. Like the kind a mother and daughter might keep, or the kind a son might keep from his father. See, while we think that secrets can protect our loved ones, secrets are a cancer, and instead of bringing peace, they eat away at our security. Instead of being able to forget the secrets, the longer we keep them, the more they invade our everyday thinking. We wake up with our secrets haunting us, and just when we think we've put them behind us, they creep up and remind us of our deceit. They keep us from believing that we deserve a happy ending. They keep us from accepting the grace that God longs to give us.
I owe credit to my pastor, Dale McIntire for the church scene. He read that passage; he spoke those words (or close to them). And, as God would have it, spoke not only to Annalise, but to me. See, God wants to break through the identity we've constructed for ourselves, the fears we have of discovery to say, "I see you. I know you. I know everything about you, and yet I love you. Period. You don't have to fear the truth with me, because I already know it. I know exactly who you are, and I still died to save you."
In that moment, I heard the words of Amazing Grace – how precious did that grace appear, the hour I first believed (or, realized just how wretched I was and how much I needed the savior.) This is the gift God gives us when we face those secrets that hold us captive. His grace. Salvation.
A fresh start.
We all keep secrets, and frankly, many of us are living dual identities – the one the world knows, and the ones created by the secrets in our heart. God sees them both and He still loves you. More, He longs to set you free. He can free you. Heal you. Fix your marriage, your family, your situation. I know because I've seen him do this in my life.
I pray that the truth sets you free to be the person God died for you to become. Thank you for reading You Don't Know Me.
Live in truth, my friends.
Susan May Warren
---
Back to Novels