Wiser than Serpents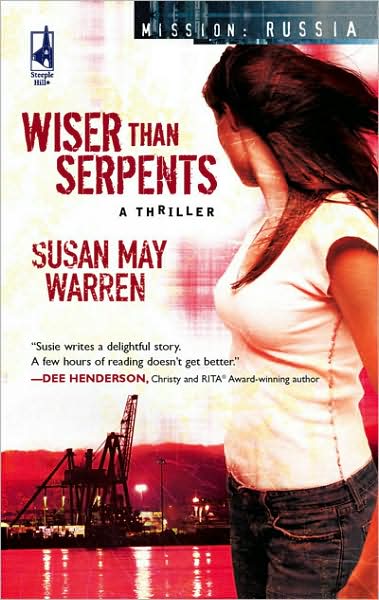 Wiser than Serpents
Thriller
Mission: Russia series
Wiser than Serpents
ISBN 0-373-78620-4
Steeple Hill
When her sister vanishes into a human slave ring, FSB agent Yanna Andrevka is determined to rescue her. Unfortuantely, she's in over her head, with no way out, especially after destroying the undercover operation of Delta Force Operative David Curtiss, who is deep undercover in the Twin Serpents crime syndicate. David has his hands full trying to save Yanna, and his operation — one that could rescue hundreds of women from the Serpent, or cost he and Yanna their lives. The thrilling next chapter of the Mission:Russia series!
Reviews 
Romantic Times Magazine:
Warren once again takes us to Russia, where her knowledge of missionary work in this faraway land shines through on each page. The exciting chase sequences will have readers waiting eagerly to see what will happen next. The idea of trusting God in all circumstances is clearly communicated.
www.ARomanceReview.com:
A 5 Rose Review! –Warren's intense writing style grabs the readers from page one and keeps the pages turning…once you begin this book, you'll be unable to put it down until you finish the story.
Endorsements of previous Mission:Russia books!
"It's hard to beat Susan May Warren for heart wrenching romance and adventure. Sands of Time is no exception. The main characters' situations and conflicting goals grab you from the first and never let go…I thoroughly enjoyed the play and counter play between Sarai and Roman. Each of their wrestling matches with God is completely convincing, a feat that's not easy to pull off consistently. Warren makes her characters suffer deliciously through realizations and transformations that challenge readers right where they live." —Jill Elizabeth Nelson www.jillelizabethnelson.com
Behind the Pages
I'll never forget the day my friend Olga and I had tea, and she told me her 19 year old daughter was headed to Japan to "waitress."  She'd gotten a job with a travel agency, and was thrilled to be working in international sales, as Olga put it. 
I couldn't deny the fear that stole through me.  Waitress?  International Sales?  I had friends who worked with a government NGO raising awareness of the human trafficking epidemic growing in Russia and I couldn't shake the feeling that Olga's daughter was being sucked into the vortex of this dark world – and I told her as much.  Olga dismissed it, and her daughter did go to Japan. 
Last time I checked in with Olga, before we left to go stateside, she hadn't yet returned. 
I don't know if Olga even knew where she was.  The memory still leaves me shaken and prompts me to pray for Olga and her daughter. 
It was this memory, and the fact that there are 27 million people around the globe held as slaves today – more thank 80% of them women and children, and up to 50% minors – that compelled me to write a story with this element in it.  
Wiser than Serpents is a continuation of the Mission:Russia series, a thriller about Yanna, whose sister is snatched through a Russian dating service, and disappears.  Yanna enlists the help of Delta Force Captain, David Curtiss to find and rescue her.  Readers who've read, "In Sheep's Clothing" and "Sands of Time" will recognize Yanna as the tech expert, and David as the solid Christian of the group. 
Honestly, the research for this book made me physically ill, and I had friends praying for me, against the darkness and evil inherent in this subject.  Thankfully, the book is written from the point of views of the rescuers, not the victims, and offers hope and empowerment, instead of feelings of helplessness.  It raises awareness without lowering the standards of Christian fiction. 
However, the world is real, and the need to get involved is great.  I so greatly admire people who take their beliefs and put action to them, like the International Justice Mission. Thank you IJM and so many others who work to make a real difference in our world!
Susie May
---
Back to Novels