Happily Ever After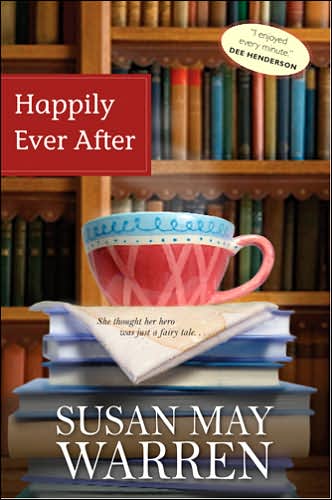 Happily Ever After
Contemporary Romance
A Deep Haven novel, Book One
ISBN-10: 9781414313832
ISBN-13: 978-1414313832
Tyndale House Publishers
A bookstore in a Victorian house on the shores of beautiful Lake Superior. Mona Reynolds can't think of a better storybook setting for a happy ending. Until someone starts to sabotage her plans. Could it be the drifter handyman she hired to help her? Just what will it take to make her dreams come true?
Awards
2003  Winner of the ACFW Carol Award
2004 Christy Award Finalist!
Reviews
Romantic Times Magazine: This debut story glows with romantic ingenuity as Joe and Mona have a grand time on a picnic date, watching bears forage at the local dump. Their secret hurts and guarded hearts keep them apart, even as they work together to save Mona's bookstore from a mysterious saboteur.
www.RoadToRomance.ca: New author Susan May Warren pens a charming modern-day fairy tale in HAPPILY EVER AFTER. From the whimsical cover to the last satisfying page, this sweet story could indeed begin – Once upon a time, and end, and they lived – well you get the idea. This writer has her finger on inspirational romance industry's pulse and gives readers exactly what they want. I HIGHLY recommend this enchanting romance. Plot is great, the tone inspirational without being preachy and the characters are friends we do not want to say good-bye to. I certainly look forward to this new author's second book in the Deep Haven Series, Tying the Knot, and I encourage you to keep your eye on this soon to be best-selling author. Get HAPPILY EVER AFTER, you certainly will be glad you did. —Linda Mae Baldwin for Road to Romance
Endorsements
"Susie writes a delightful story. I fell in love with this couple. Pursuing a dream, learning to trust each other, falling in love. . . A few hours of reading doesn't get better. The Footstep of Heaven Bookstore is a wonderful place to linger. Great job, Susie! I enjoyed every minute." —Dee Henderson, author of the O'Malley series
"Perfect! Susan May Warren's tender tale of love and forgiveness delights the senses and warms the heart. With its vividly drawn characters and lush lakeside setting, Happily Ever After blends humor and deep emotion with a wonderful surprise that will keep readers eagerly turning pages. —Catherine Palmer, best-selling author and Christy Award winner of A Touch of Betrayal
"I have just finished reading your book Happily Ever After for the second possibly third time. I love the story of Joe and Mona! I don't know what it is about it that draws me in every time, but I can hardly put the book down every time I read it!" —Jackie B
Behind the Pages
The idea of Happily Ever After has been incubating in my heart since childhood, when I first set eyes on the North Shore of Minnesota. It seems as though everything significant in my life has birthed from moments sitting on the shore of Lake Superior, listening to the call of the seagulls or throwing stones into the surf. I found the Lord at a camp on the Gunflint Trail, met my husband years later in Grand Marais, and began my writing dreams at a rough-hewn picnic table overlooking the rocky shoreline.
Mona and Joe –and their story– touched my heart and reminded me that God is the author of my dreams and all my golden moments. My desire in writing this story was to share how God truly is our refuge, our deep haven, and that whatever happens, whether travail or triumph, we can fling ourselves into the Father's loving arms with trust and abandon.
A good friend once told me that God doesn't give us a dream just to yank it away and laugh. We serve a loving God who knows our hearts better than we do and longs to delight us with His love. I've clung to that thought throughout the years as my family and I have served God in challenging places, enduring difficult stages in our missionary service. Through it all, I've seen His provision, His protection, and His love, showing me repeatedly that I am His beloved child. Most of all, I've learned that the more I surrender to Him and the more I trust in His grace for every situation, the more He surprises me with His abundance. Try it! Give Him your dreams and your heart, and enjoy being loved by the Almighty.
Thank you for reading Happily Ever After. I hope you've enjoyed reading it as much as I've enjoyed writing it. I'm looking forward to sharing with you other romantic adventures on the shores of Lake Superior in Deep Haven, Minnesota.
---
Back to Novels