Chill Out, Josey!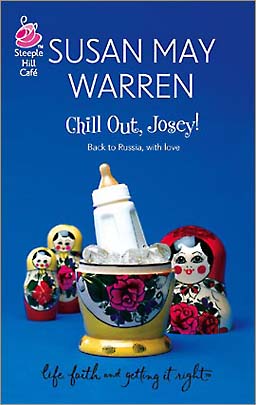 Chill Out, Josey!
Contemporary Romance
ISBN-10: 0373785852
Steeple Hill 
 Russia?  Not again.  Josey's finally living the good life - she's got the man, the (almost-perfect) wedding, the two-story Cape-Cod house of her dreams. That is until her man drags her back to Moscow!  Josey knows she has the guts to follow her own dreams across the world, but she's not so sure
she can play the perfect wife while her husband chases after his.  Josey's set on having the perfect life…even in a world without hot water, decent take-out and size-two leather fashion.  But can she find the courage to tell her man the secret that will change their lives forever?
What Readers are saying:
How I love this author's Russian stories. This one is no exception.
If you read Everything's Coming Up Josey, you already know about Josey's adventures as an inexperienced missionary in Russia. You also know she finds true love with her childhood friend, Chase. Chill Out, Josey follows her back to Russia when Chase--now her new husband--loses his job and decides to take a job out of state--way out of state. Not exactly what Josey had envisioned for her first year of marriage. In fact, she's already looking at a cute little house for them to buy so they can settle down, get a dog, and start a family. Too bad Chase doesn't share her vision. But something happens that neither of them expect when Josey finds out, the day before they are to leave for Russia, that she's--gulp--expecting.
Thus begins a great story of love, humor and misadventure as Josey tries her hardest to be the Proverbs 31 wife. Oh, how she longs to "surpass" as a wife. I guess her first mistake was forgetting to turn off the water and accidentally flooding the apartment of the Mayor of Moscow. Yikes. Not good. But in the end, Josey does manage to "surpass" even her younger sister, the model of the perfect wife and mother, who knows how to make kringle and fresh bread, while Josey can barely cook anything without starting a fire and summoning the fire department.
The ending is perfectly funny. I think it liked it even more than the first Josey book. I highly recommend it. ~ M.D. Amazon.com reviewer
Don't read this book in public. All of the snickering and snorting will draw attention to yourself, and you won't be able to hold it back. I read about four pages of this book to my son the other night (while we were waiting to start a game) and even he (Mr. Serious) starting rolling in laughter with me. Josey is such a great character. Her thoughts were hilarious and her antics were totally nuts. But she tries so hard you've gotta love her. She is a bit naive, though, when it comes to some things, but fortunately the trust she places in people is not destroyed. You have to love someone who cares as much she does, right? Isn't that what makes her so adorable? I think so.
Josey had funny names for people that will make you laugh, but she is descriptive without sounding mean, and I loved that. She referred to the Russian women (who worked with her husband) as the underfeds because they were so thin compared to her. And when she starts going through her internal pregnancy thoughts (like comparing herself to a manatee) make sure your mouth is empty or you'll spew food on your book. Trust me, this story is a keeper. You won't want to ruin it.
I especially enjoyed one of the key props in this book. Josey referred to them using a pet name, scary pants. There is a whole lot of subtle meaning that goes in to that clothing item. Brilliantly done! Personally, I think this author is most gifted in writing funny chick lit. I hope Josey's legacy continues or I'll be one sad reader. Of all of the books I've read in the past year, this is by far the most amusing, but it also had some profoundly insightful moments that were a natural part of the storyline.
Lest you think you will get only humor from this book, let me set you straight now. Josey gains insight into her inner life and motivations, and as a reader you will do some soul-examining along with her. The spiritual message is wonderful. Steeple Hill deserves major kudos for publishing this work of art. This is what Christian Chick lit should be about...humor and depth. Susan May Warren has that going on here, so enjoy! ~ M.S. Amazon.com reviewer
Behind the Pages
In Chill Out, Josey, I let Josey's adventure continue with more of my hilarious (at least I think so!) adventures as a pregnant woman navigating the bus, the subway and most of all LIFE in Russia. I hope you'll laugh (and cry!) with me/Josey as she trys to figure out just how to stop worrying about life...and just learning how to CHILL OUT, JOSEY!
Susie May
---
Back to Novels