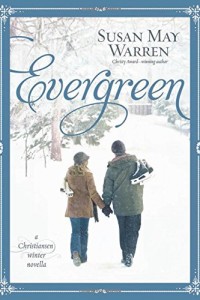 Evergreen
ISBN 10: 1414394012
A Christiansen Winter Novella
An empty nest has Ingrid Christiansen dreading the upcoming holidays, but her husband, John, couldn't be more excited about this new season of life. He even has a surprise trip abroad planned. He's sure she'll love it. What's more romantic than Christmas in Paris?
Before he can stop her, however, Ingrid agrees to spearhead a major church project. Then their faithful dog, Butterscotch, needs emergency surgery, draining their savings. And then—because disasters strike in threes—an unexpected guest arrives, dredging up old hurts.
As a beautiful blanket of snow transforms the north woods into a winter wonderland, a deep chill settles over John and Ingrid's marriage. With the holidays fast approaching, their only hope of keeping their love evergreen depends on turning the page on the past and embracing a new chapter of their future.
Behind the Pages: 
Is there life after the kids leave the nest?  The answer is, of course, yes, but finding that can be a bit of a challenge when a family is close-knit, when the parents are uber-involved with their children's lives. Such was the case for John as Ingrid as, one-by-one, their children walked out the door into their lives.  Gone were the days when the kitchen resonated with the sounds of epic conversation after school, and suddenly they've discovered…quiet.
John loves it – he envisions rekindled romance and freedom to enjoy the wife of his youth.  But for Ingrid, the silences stir up old hurts, once muted by the sounds of her children.  And in the quiet, her anger begins to simmer.
Into this mix is an unexpected Christmas gift in the form of a relative that needs, for a season, a home.  A family.  But what "family" is he walking into?
My children began leaving the house about five years ago, and as each one said goodbye, my husband and I would look at each other and say…now what?  We loved each other, but weren't quite sure how to go back to just…us.  As my youngest son entered his junior year of high school, the only one still at home, we were given the unique opportunity.  My husband's brother had just moved his family to a community school that didn't have a football program. Egads! We, on a whim that turned out to be wisdom invited his son, our nephew, to live with us for a year, to play small town football.
He moved in, thrived and we had the opportunity invest in the life of a young man we called our "pseudo-son."  Watching him grow and change seeded the story idea for Evergreen.
Anyone who has children struggles with the season of "leaving the nest."  There is more out there for us empty nesters!  Evergreen is about the journey to finding it.