I was emptying out my phone and came across these fabulous photos that pretty much sum up the past month. I know you're just dying to see them. *g*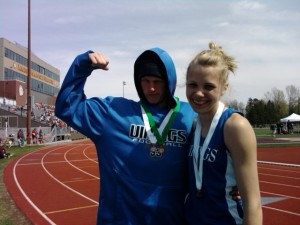 Super Pete and his cute girlfriend Molly.  Peter believes in dressing like it is the height of winter regardless of the season.  A true Minnesotan (while his lovely girlfriend would gladly be getting a tan.  Poor girl is blessed with the lily white skin of a northerner, but we love her attempts!)  they both run the 200…so cute!  (Pete absolutely loves it when I say that, so I do it as often as possible.)
How can my little twerp have turned into the good looking lad below?  (and landed such a cute prom date?)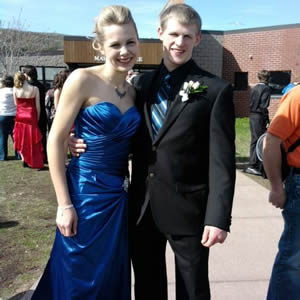 Peter and Molly at Prom.
And how did my cute little girl become the lovely princess below?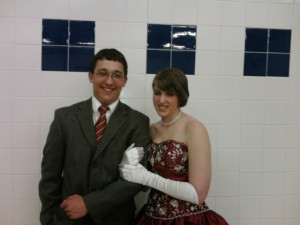 Sarah went to prom with the local pastor's son.  I totally approved.
Sarah's gradation party? – A Christmas Theme.   Because, well…it was for Sarah, the Girl Who Loves Christmas.  (Actually, I think it was a dare. Me:  Sarah, what kind of theme do you want for your Graduation party?  Sarah:  I don't want a party.  Me:  Of course you have to have a party (because I love parties and after raising her for 18 years, I think we definitely need some sort of celebration.  Really.)  Sarah:  Fine.  How about a Christmas party?  (she says in her I-dare-you voice). Me:  Bring it.
My camera is now empty.
Thanks for letting me share.
Susie May