Spring? Seriously? Last time I looked up, it was February! I admit–I've been head down working on a new book, out next February, so imagine my surprise when my son appeared on our doorstep last week, suitcase in hand, saying, "It's Spring Break!"
Really?
YES! Which means it's time to take time off and READ! I hope you're headed to some beach some where…and to celebrate, I'm super excited to be joining together with three fabulously awesome author friends–Nicole Deese, Melissa Tagg and Courtney Walsh–to host a Spring Break Book Giveaway! You can win all of our new romantic releases plus a super pretty handmade heart necklace.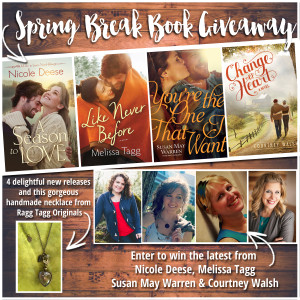 By the way, the necklace was made by Melissa Tagg's talented sister–Amy Reece–and sold through the Rag Tagg Originals Etsy store she co-runs with her other sister, Nicole Schwieger. Lots of creative talent in the Tagg family!
Entry is super easy. All you have to do is include your first and last name and email address in the form below. All giveaway rules are noted in the form, including the fact that by entering, you're signing up for our author e-newsletters, which we promise to fill with all things fun and non-spammy.
Happy Spring Break!