It's 7:00 pm. I'm holed up in my office, tapping away at the computer, wrestling out a new scene. In this one, my hero and heroine are preparing dinner. Pad Thai. With noodles and shrimp, bean sprouts and eggs. I can nearly taste it.
Except, I can't really because no one is in the kitchen at my house, no one frying garlic and onions, chopping carrots, boiling pasta. And, it's been hours since my last meal. If you count an apple with peanut butter as lunch.
But I'm so into the scene, I can't look up, can't tear myself away from the flow. So, my stomach growls as I write about the crunch of the peanuts, the tangy cilantro.
Then, suddenly, I hear a door open. Close. Steps. The creak of the refrigerator.
Maybe my youngest son, home from work. Hopefully he won't ask me what's for supper.
I hope he likes apples. And peanut butter.
I'm well into the back half of the scene when I smell it: the fragrance of onions frying in olive oil. Then the sizzle as pork is added, and the smell of curry rising upstairs. Rice—it's in the cooker and the nutty aroma draws my attention.
I press hard to finish the scene. The hero is reaching across the table, taking the heroine's hand, about to—
"Supper's ready!"
Supper? I look up. The smells are abundant, intoxicating and my roiling stomach presses me to hit SAVE. To put the computer aside.
Rise. Go forth.
Enter the land of the real. The tasty.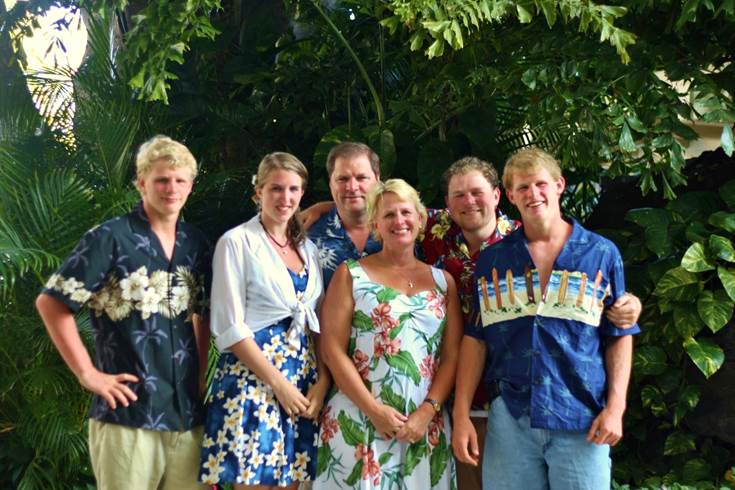 "Hi, honey. I'm home," my husband says, handing me a plate of pork curry over rice.
"It's about time," I say and wink.
I love food. Especially when I don't have to make it! I'm so blessed to live with an armchair Iron Chef who can scour the fridge, emerge with a few old green beans, eggs, a frozen pork chop, and some dry, twisty carrots, and whip up something that can make my eyes roll into the back of my head.
Without him, we'd probably starve. (I live in the land without pizza delivery. Imagine!) It's his brilliance (and the endless episodes of Chopped, Iron Chef, Kitchen Nightmares, Diners, Drive-ins and Dives I'm forced to watch) that inspired my new book, When I Fall in Love. That, and a trip to Hawaii we took a couple summers ago. (I think I ate enough sushi to swim to Japan.) I just love the story about a "pull-from-the-cupboards" north shore pizza girl who joins forces with a hockey-playing Iron Chef to create culinary (and romantic) magic. I hope it inspires you not only to believe in happily ever after—but to take some chances in the kitchen, too!
Most of all, I'm super excited about a fantastic giveaway I'm doing for this book. I gave my daughter an apple-green KitchenAid Mixer for her wedding because I love mine (now 25 years old). They're fantastic . . . and you can win one by following the instructions below! (Click on the picture that'll take you to the instructions.)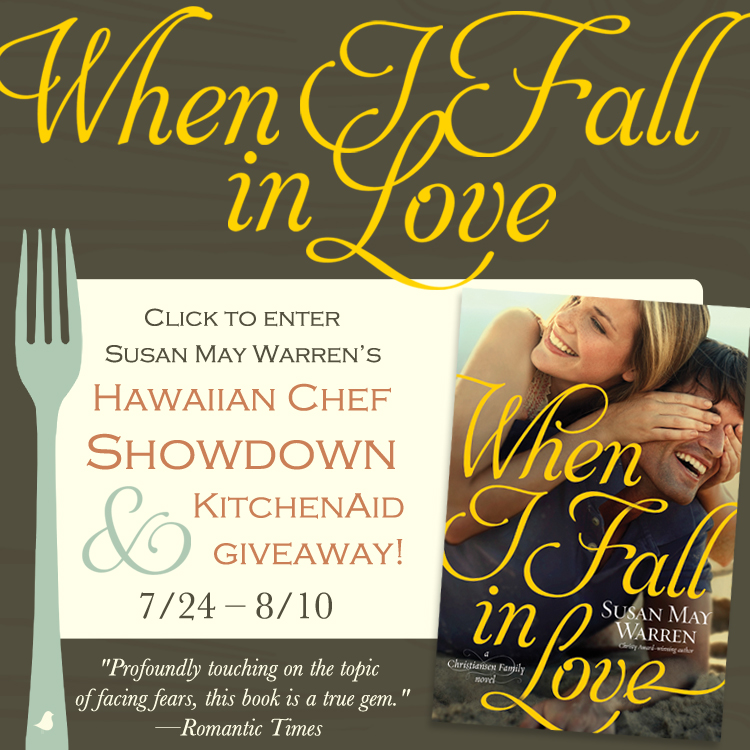 Cool, huh?
Listen, I'm all intention and no action when it comes to serious cooking . . . but that doesn't mean I can't dream big. Pick up the book and dream big with me—and enter to win!
Meanwhile, what was my hero saying as he leaned over to the heroine . . . ?
Are you new here? You might want to follow me on Facebook, Twitter, Pinterest, or Instagram.